Presentation of Franco-Serbian Publications in the Framework of Scientific Cooperation in Archaeology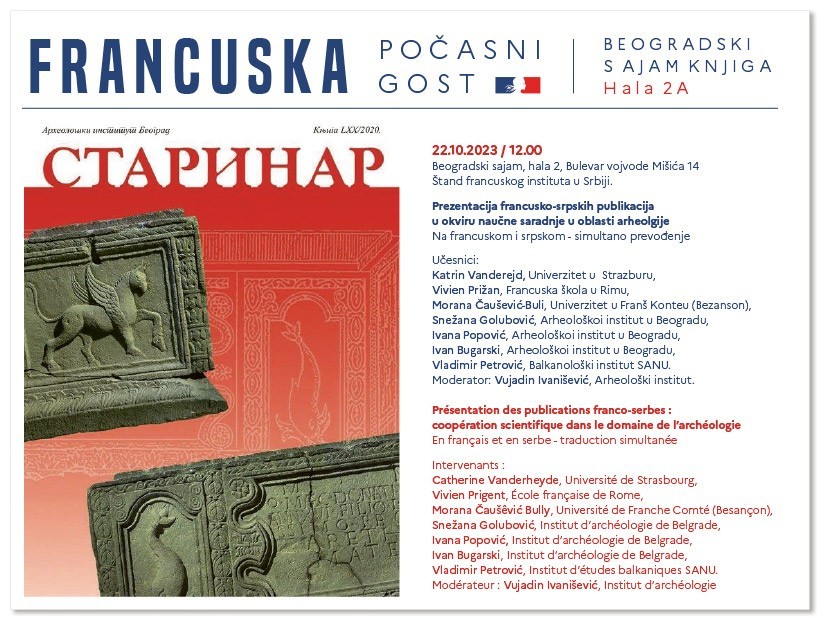 At the Belgrade Book Fair, of which France is the guest of honor this year, was organized a round table and discussion on scientific publications and cooperation in the field of archeology between France and Serbia. The event took place at the French Institute in Serbia stand on October 22, 2023, starting at noon. The moderator of the round table was Dr. Vujadin Ivanišević, corresponding member of Serbian Academy of Sciences and Arts (SASA), and the participants were Dr. Catherine Vanderheyde (University of Strasbourg), Dr. Vivien Prigent (French School in Rome), Dr. Morana Čaušević - Bully (University of Besançon), Dr. Snežana Golubović (Archaeological Institute in Belgrade - director), Dr. Ivana Popović (Archaeological Institute in Belgrade), Dr. Ivan Bugarski (Archaeological Institute in Belgrade) and Dr. Vladimir P. Petrović (Institute for Balkan Studies of SASA).
Dr. Petrović, the Principal Research Fellow of the Institute for Balkan Studies of SASA, presented two monographs of which he is the author or co-author that were published entirely in French in cooperation with the Institute Ausonius, University of Bordeaux-Montaigne: Petrović, V. P. 2019. Les voies et agglomérations romaines au cœur des Balkans - Le cas de la Serbie. Scripta Antiqua 120 - éditions de Bordeaux: l'Institut Ausonius. (ISBN 978-2356132482) and Petrović, V. P., V. Filipović & S. Milivojević. 2012. La région de Svrljig en Serbie orientale – préhistoire, antiquité et moyen âge [Svrljiška oblast u praistoriji, antici i srednjem veku]. Belgrade: Institut des études balkaniques de l'Académie serbe des Sciences et des Arts & Svrljig: Centre Culturel de Svrljig. (ISBN 978-86-7179-078-9).